Travel Awards
The Society for Melanoma Research has established a process to help young scientists apply for financial assistance to attend the annual Society for Melanoma Congress.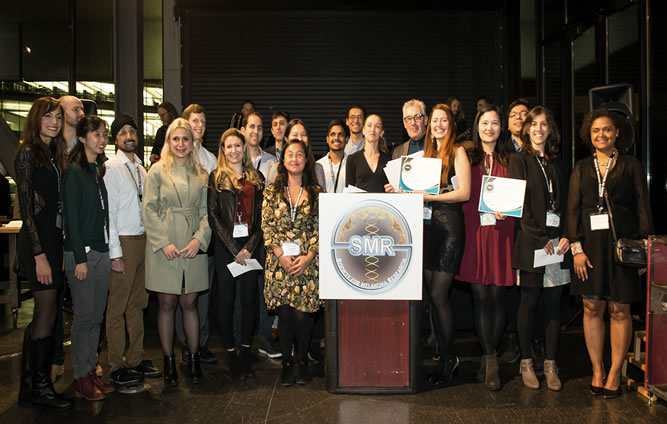 2019 Travel Award Winners
Criteria
The awards will be made on a competitive basis from the pool of candidates submitting poster and oral abstracts for the Congress. In order to be considered for the awards the individuals must meet specific criteria.
You must submit an abstract with the intention of presenting your research (oral presentation or poster) at the Congress.
You must be a graduate student or young scientist-in-training (i.e. postdoctoral or medical resident, fellow, intern) within five years of receiving your MD or PhD.
You must be a member of the Society for Melanoma Research for the year in which you are applying for an award. All trainees registering to attend the Congress will be given a complimentary 1 year SMR membership. Hence, the requirement to be an SMR member is automatically fulfilled when you register to attend the Congress.
Your lab's Principle Investigator (PI) must provide a statement confirming your trainee status and that you are eligible to be considered or a SMR Travel Award.
If you have a need for financial assistance, and could not otherwise attend the meeting, please disclose this in a single sentence in the letter.
All SMR Travel Awardees will be selected based upon the scientific merit of the submitted abstract. However, financial assistance will also be taken into consideration so that applicants who submit meritorious abstracts will be able to attend the conference. To simplify the application process this year, the PI's letter certifying trainee status may be uploaded onto the abstract submission site at the time you submit your abstract.
Steps to Apply
Submit Abstract - To qualify for consideration for a Postdoc Travel Award, abstracts must be submitted to the meeting through the regular abstract submission process. Applicants must be the first author on a submitted abstract.
Upload or Email a Letter Certifying Trainee Status - A letter of recommendation from the principal investigator/advisor must be uploaded with your abstract submission. Alternatively the letter may be emailed to Debra Marshall [email protected] Address the letter of support to "Postdoc Travel Award Review Committee." The letter should address 1) the scientific merit of the postdoc's work, 2) how the meeting attendance will benefit the postdoc's professional development, and 3) Disclose in one sentence if there is a need for financial assistance.
Deadline and Disposition Notification:
The application deadline is September 1, 2019. A completed application includes:
Completed Abstract Submission
Letter of recommendation
Curriculum Vitae
Copy of NIH Bio Sketch or letter from organization confirming your trainee status
Applicants will be notified via email in September regarding the status of their application.
There are no travel awards offered for late breaking abstracts.
Judging for the awards will include but is not limited to:
Submission of all requested information before the stated deadline
Abstracts selected for oral presentation and the top 15% of submissions not selected for oral presentations
Quality of work
Originality of work
If interested in receiving a travel award, please either submit your application through the abstract submission site